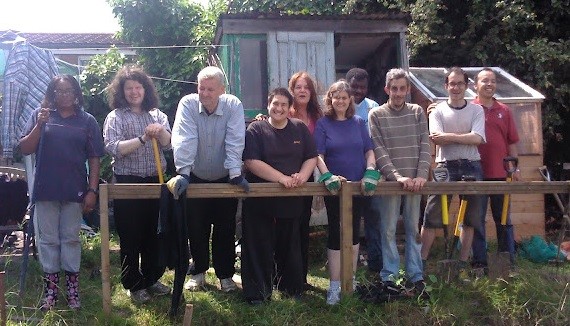 The Gardening Group is a social and educational project.
It is currently open every Saturday between 11.00am and 3.00pm and based close to Herne Hill.  The group has an allotment where they grow fruit, vegetables and salad, which they share.
Read more on their blog.
The group also works at the garden at our Rathbone offices and on some local community gardens in West Norwood. Group members learn useful skills, some of which can help with independent living.  Support at the group is provided by Rathbone support workers.    It is open to adults with learning disabilities over the age of 16.  We are currently open to referrals.  Priority is given to those who get their adult social care packages with Rathbone or who reside in Lambeth, but we do consider other referrals.  Participants with higher needs can bring along a 1:1 supporter.
The cost of attending the Gardening Group is £8.00 per session for Rathbone adult social care customers.
The cost of attending the Gardening Group is £35.00 per session for other participants.
To find out more or make a referral please contact us on enquiries@rathbonesociety.org.uk or call 020 8670 4039.