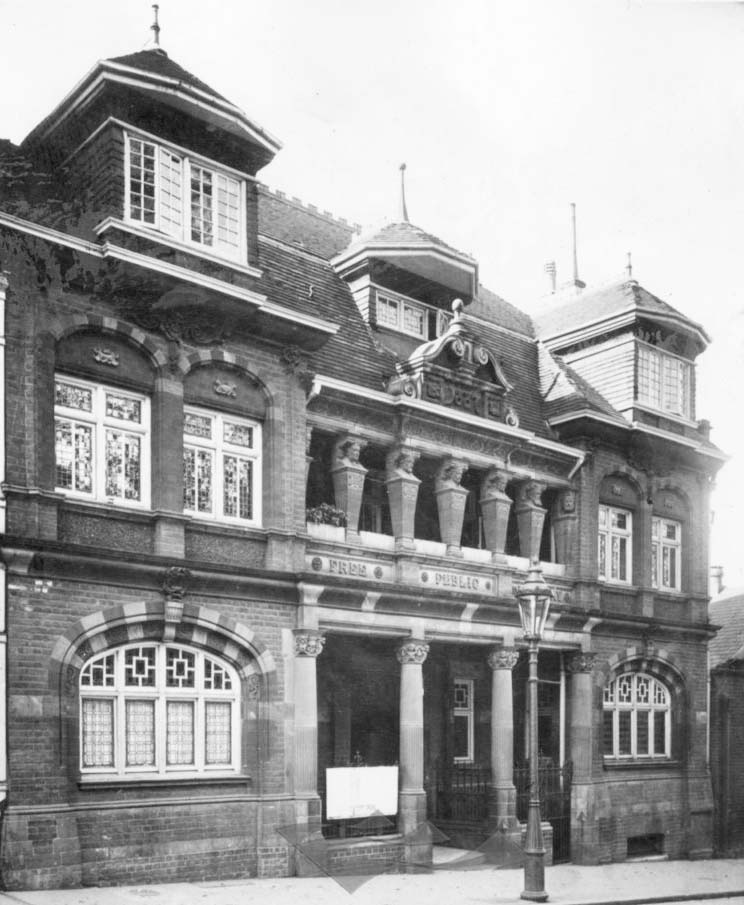 The West Norwood Free Public Library on Knight's Hill opened on 21st July 1888 as the first public library in Lambeth. It was commissioned by Sir Henry Tate on land donated by Frederick Nettlefold, who laid the foundation stone on 26th November 1887. The building was designed Sidney Smith, architect of Tate Britain and several other Lambeth libraries.
It is a three-storey building in Classical style showing Flemish influence, and is built of red brick with terracotta and Ham Hill stone dressings. It has a colonnaded entrance loggia with an enclosed balcony above. The balcony is fronted by tapering fluted piers bearing busts of Homer, Sir Walter Scott, Chaucer, Shakespeare, Milton, Dickens and Socrates.
Frederick Nettlefold (6th April 1833 – 1st March 1913) was a British industrialist, one of the Nettlefolds in Guest, Keen and Nettlefold. He was a leader in the Unitarian Church, and became lay president of the international organisation.
He was born in Acton, London to John Sutton Nettlefold, who founded the brass fixing company Nettlefold and Chamberlain with Frederick's cousin Joseph Chamberlain, father of Austen and Neville.
After his father retired and cousin left the business to concentrate on politics, Frederick took over the running of the London part of the business as chairman, while his brother Joseph was sent to Birmingham to manage their new foundry. Nettlefolds Ltd was launched as a limited company in 1880 and the Nettlefold brothers went on to establish a dominant position the British wood-screw market through many mergers and acquisitions, becoming Guest, Keen and Nettlefold, now GKN.
In 1878 Frederick and his wife Mary Catherine moved into Streatham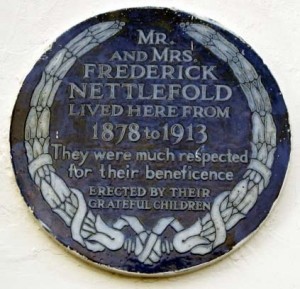 Grove (now called Norwood Grove), upon its vacation by P&O magnate Arthur Anderson. Their residence is now marked by a blue plaque.
Frederick retired from Nettlefolds in 1893 and helped develop Samuel Courtauld's silk and crepe company. He also dedicated more effort to philanthropy; for example, he gave the land for the library and endowed the Nettlefold Hall in West Norwood.
Mary died at Norwood Grove in 1906 followed by Frederick in 1913, and they are buried in West Norwood Cemetery, although their monument is believed to have been destroyed during the 1980s.
Sir Henry Tate, 1st Baronet (11 March 1819 – 5 December 1899) was an English sugar merchant and philanthropist, noted for establishing the Tate Gallery, London.
Tate was the son of a Unitarian clergyman. When he was 13, he became a grocer's apprentice in Liverpool. After a seven-year apprenticeship, he was able to set up his own shop. His business was successful, and grew to a chain of six stores by the time he was 35. In 1859 Tate became a partner in John Wright & Co. sugar refinery, selling his grocery business in 1861. By 1869, he had gained complete control of the company, and renamed it as Henry Tate & Sons. In 1872, he purchased the patent from German Eugen Langen for making sugar cubes, and in the same year built a new refinery in Liverpool. In 1877 he opened a refinery at Silvertown, London, which remains in production.
Tate was a modest, rather retiring man, well known for his concern with workers' conditions. He built the Tate Institute opposite his Thames Refinery, with a bar and dance hall for their recreation.
Tate rapidly became a millionaire, and donated generously to charity. In 1889 he donated his collection of 65 contemporary paintings to the government, on the condition that they be displayed in a suitable gallery, toward the construction of which he also donated £80,000. The National Gallery of British Art, better known as the Tate Gallery, was opened on 21 July 1897, on the site of the old Millbank Prison.
Tate made many donations, often anonymously, including £5,000 for building a free library in Streatham; additional provisions were made for libraries in West Norwood, Balham and Brixton.
Tate was made a baronet in 1898, the year before his death. He had refused this knighthood more than once until – after he had spent £150,000 to build the gallery at Millbank, endowed it with his personal collection, and presented it to the nation – he was told the Royal Family would be offended if he refused again.
Tate married twice and had eight children. He lived at Park Hill by Streatham Common and is buried in West Norwood Cemetery.
In 1921, after Tate's death, Henry Tate & Sons merged with Abram Lyle & Sons to form Tate & Lyle.
Sidney Smith, architect
Sidney R. J. Smith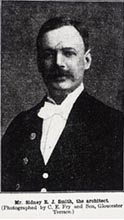 was a Late Victorian English architect, mainly known for the work he undertook in the 1880s and 1890s for Henry Tate. Aside from the Tate gallery on Millbank and the libraries, he also designed the Tate mausoleum at West Norwood Cemetery.