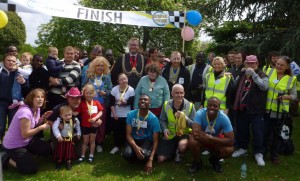 Rathbone's Second Annual Fun Run took  place around Brockwell Park on Saturday May 25th.
The event was again kindly supported by the Mayor of Lambeth, Councillor Mark Bennett, who started the Run and presented medals to all our brave runners and fundraisers. We were very fortunate to enjoy a bright and sunny morning and you can see from the pictures on Rathbone's Flickr page that everyone had a brilliant time.
Prizes for fastest, slowest and best fancy dress outfit will be presented at our annual Summer BBQ on Friday July 26th.
It is too soon to know how much money everyone was able to raise to help run our social groups, but we will let everyone know as soon as we have a figure.
Huge thanks to everyone who helped make the event another success.